Shortly after a good friend of ours had graduated with a degree in video game development, his wife got pregnant.  . . . Player 3 was entering the game.  I thought the theme presented itself naturally and thankfully his wife is a good sport!
The Invitations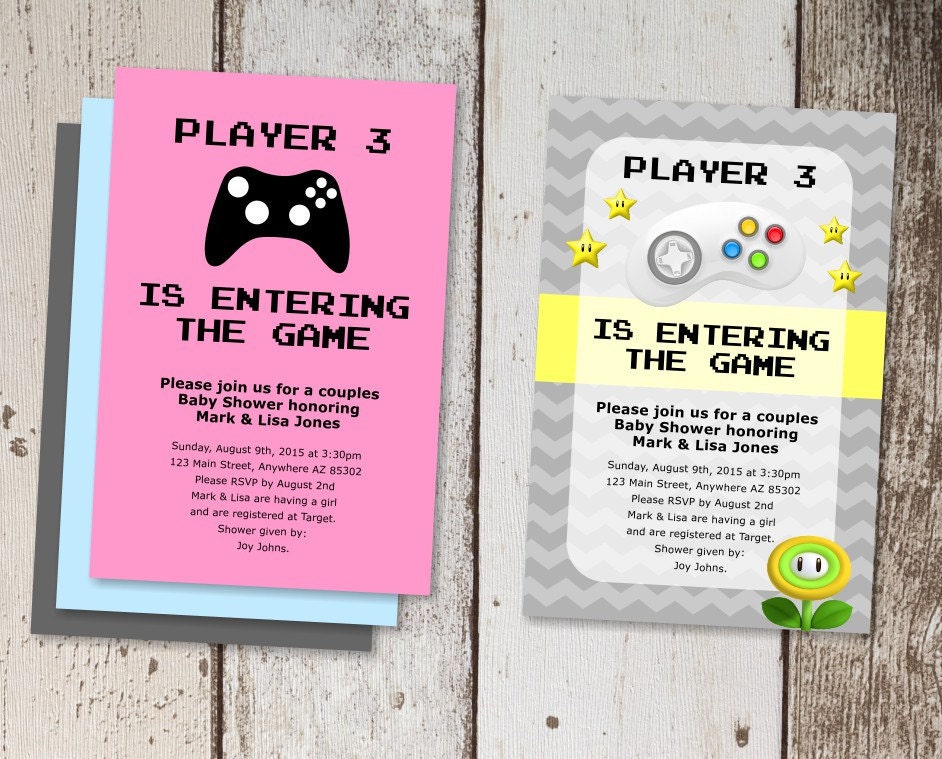 Getting the theme off to a good start, I designed video game baby shower invitations.  I started with the simple design on the left, but the daddy to be had very specific ideas.  While I lovingly called him a PITA in the moment, I was happy with our more-festive landing point on the right.
(Invitation template available here: https://www.instant-invitation.com/listing/241810170/video-game-invitation-baby-shower)
The All-Important Dessert Table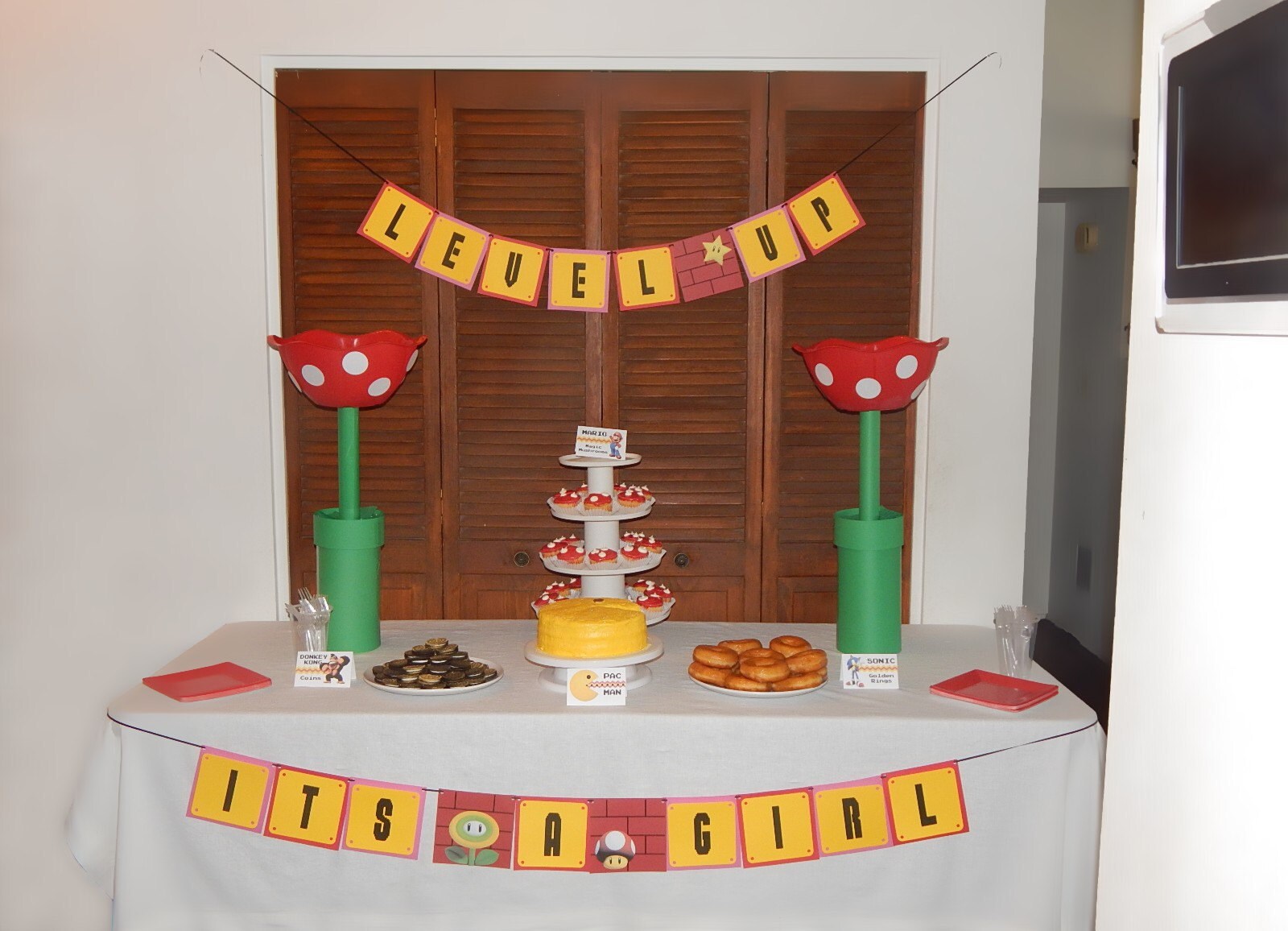 Pac Man!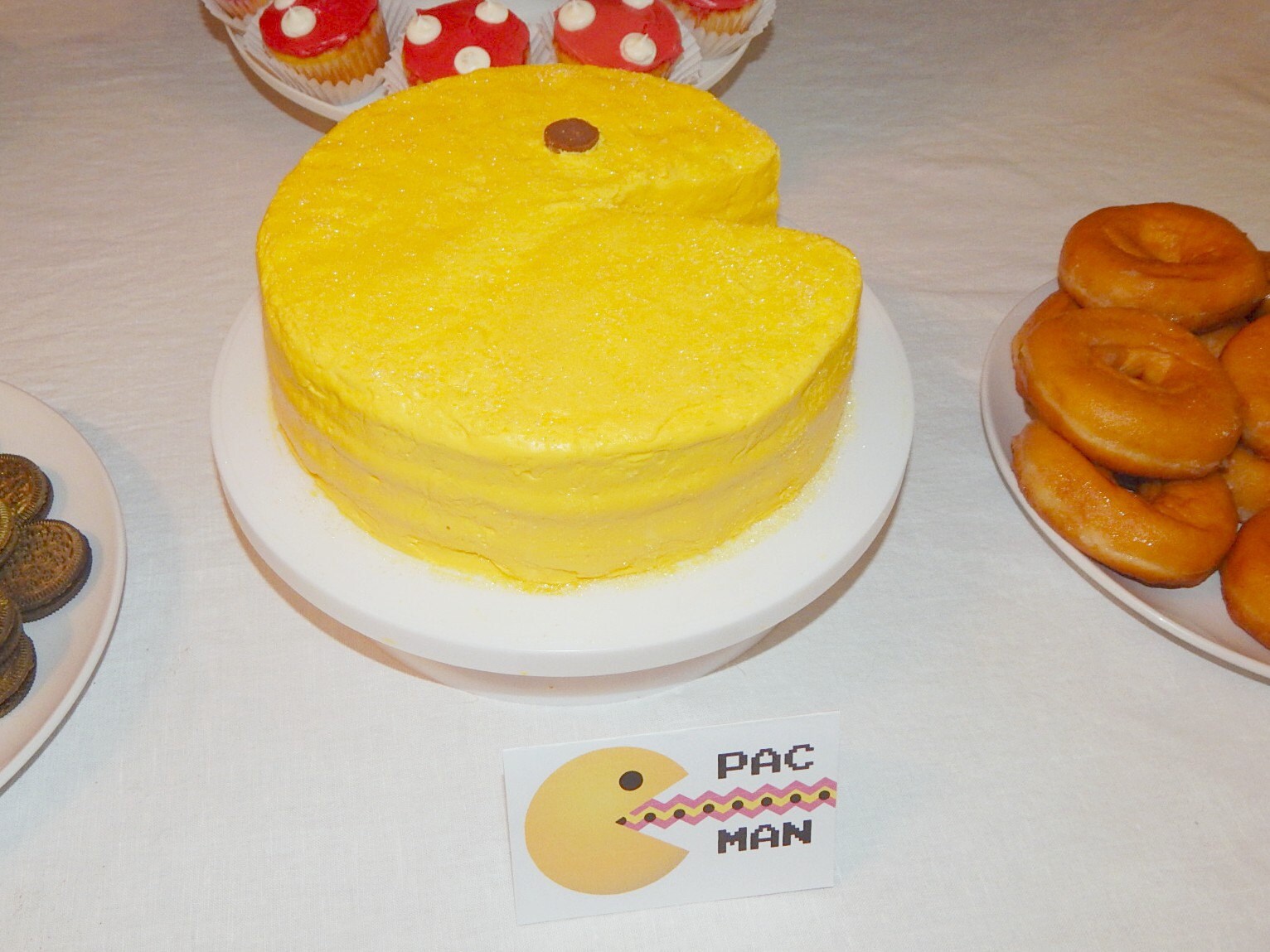 Pac Man is just a double layer 8-inch cake with a slice cut out after the pre-icing cakes were frozen for 10 minutes or so to avoid crumbing and crumbling.  Bonus -- you can eat the slice!  Add some yellow icing (and in my case, some yellow sprinkles because I wasn't happy with the smoothness of my icing coating),  an upside down hershey kiss, and done!
Sonic's Golden Rings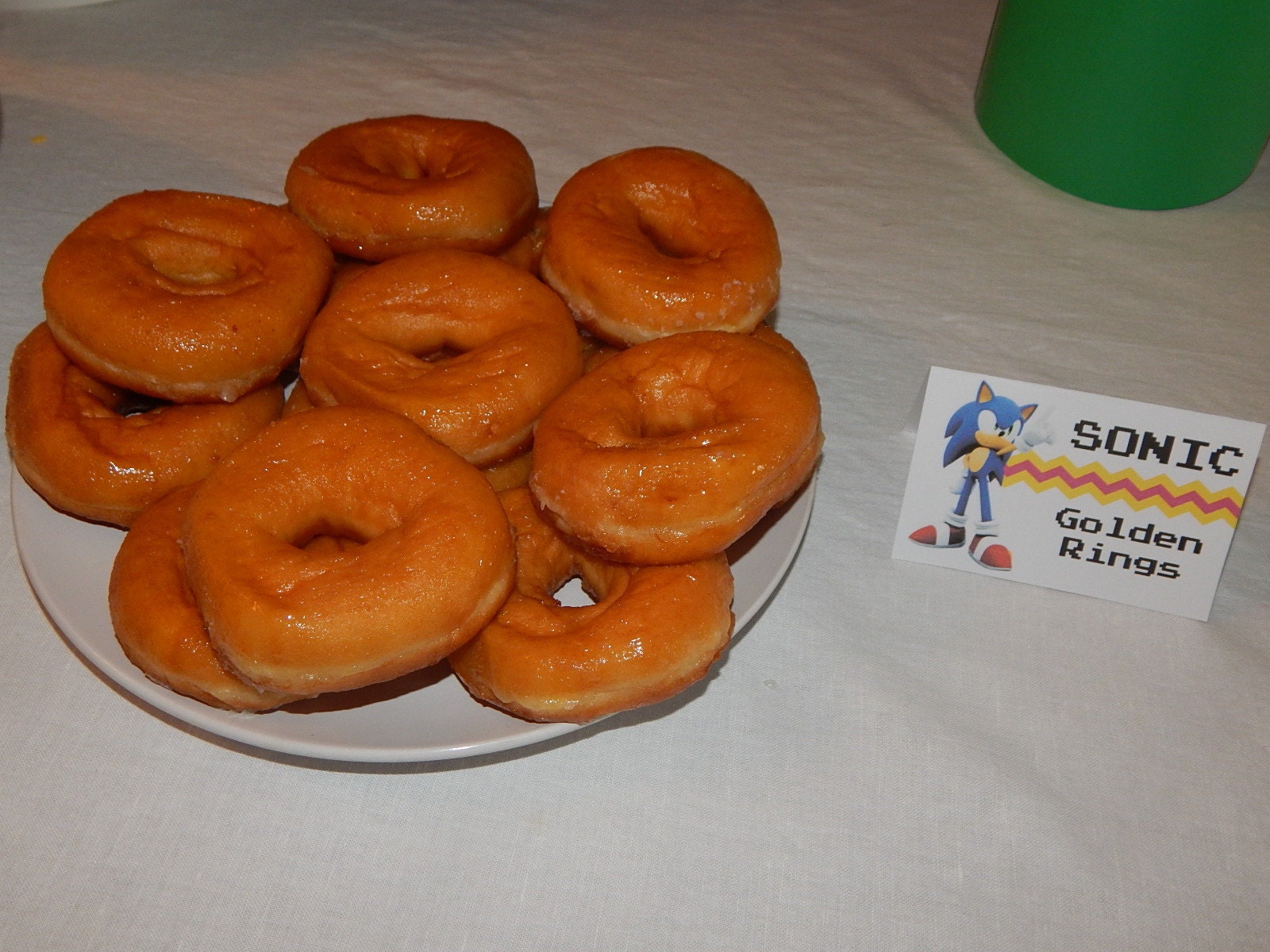 Even easier than Pac Man, these Golden Rings are a product of Walmart's bakery!
Donkey Kong Coins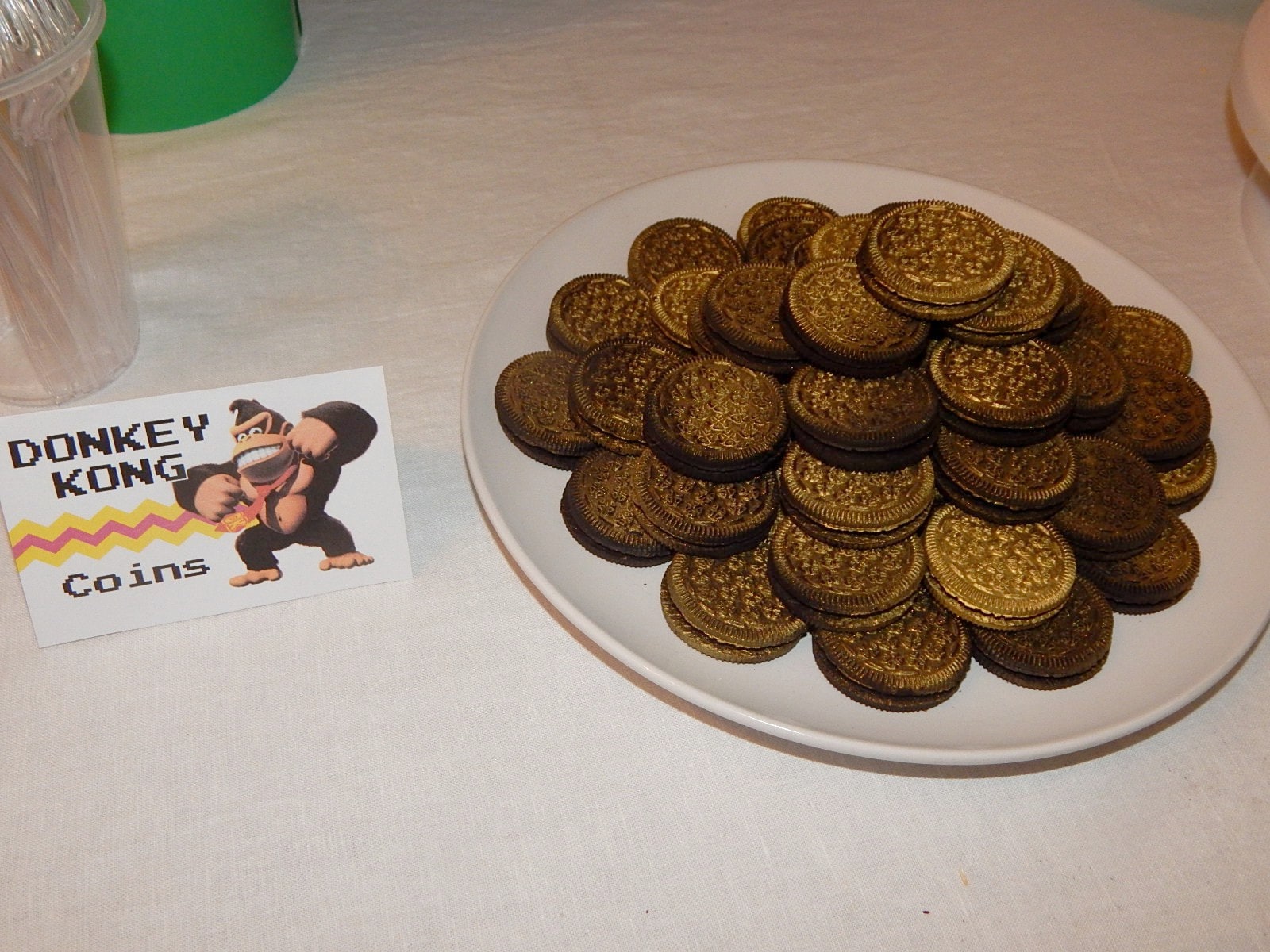 1 can of golden edible spray + 1 package of oreos = Donkey Kong's half gold, half brown coins.  Pushed for time, I fought my inherant OCD and did not go to the store for another can.  With 2 cans, I think you could have a plate of cookies that look like my one stand-out golden oreo!  Oh well, next time. . . .  
Mario's Magic Mushrooms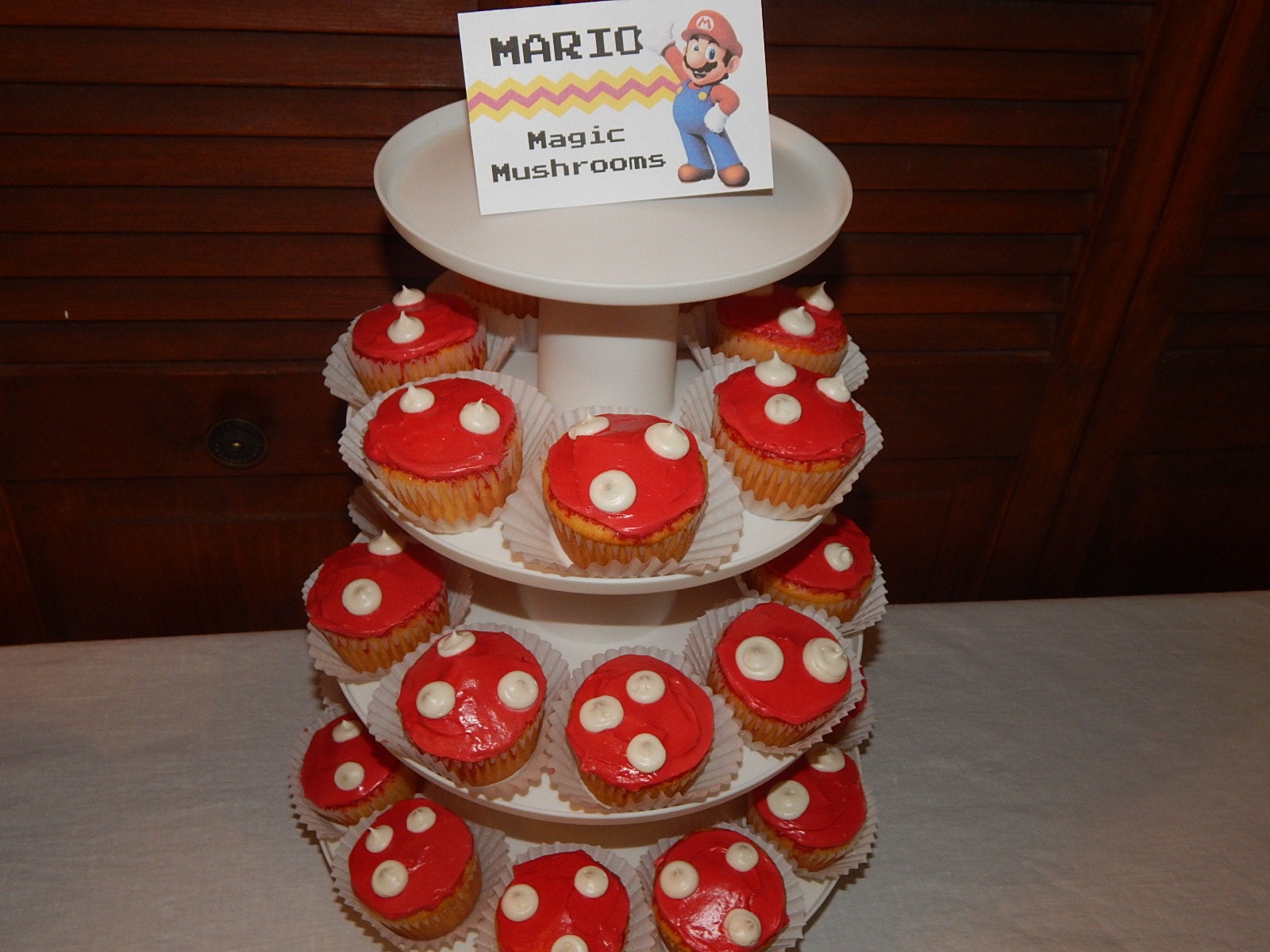 Just vanilla cupcakes covered in red icing with dots added with a pastry bag.  And display!  (I opted to use my tiered cupcake stand, which I whip out for just about every party.)    
Piranha Plant in a Warp Pipe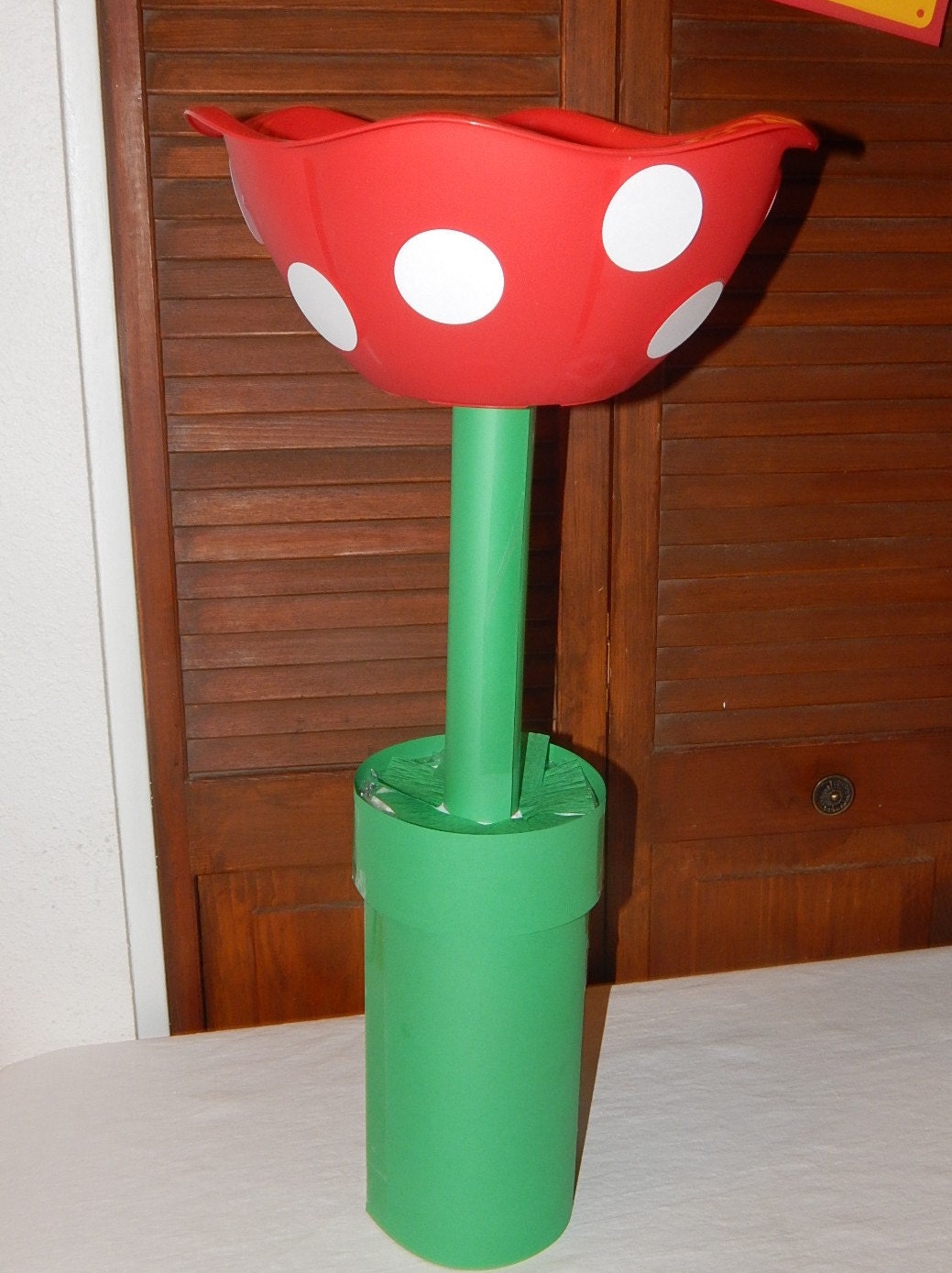 Paper towels are key to this decoration.  The warp pipe is a new roll of paper towels wrapped in green card stock with a 2-inch strip of green added to the top with double-sided mounting tape.  An empty paper towel roll was then squished into the base roll and covered in card stock.  The red bowl was $3 from Walmart and worked perfectly for the decoration.  I just added white paper polka dots and attached the bowl to the stem (pre-green paper) with lots of packaging tape.  I used small pieces of streamer that I had leftover from a soccer party to cover up the white of the paper towel at the base.  Perfectly trimmed card stock would add a more polished look if that's you're preference, but I actually like the messiness of the streamer mimicing a grass-like effect.  
Fire Balls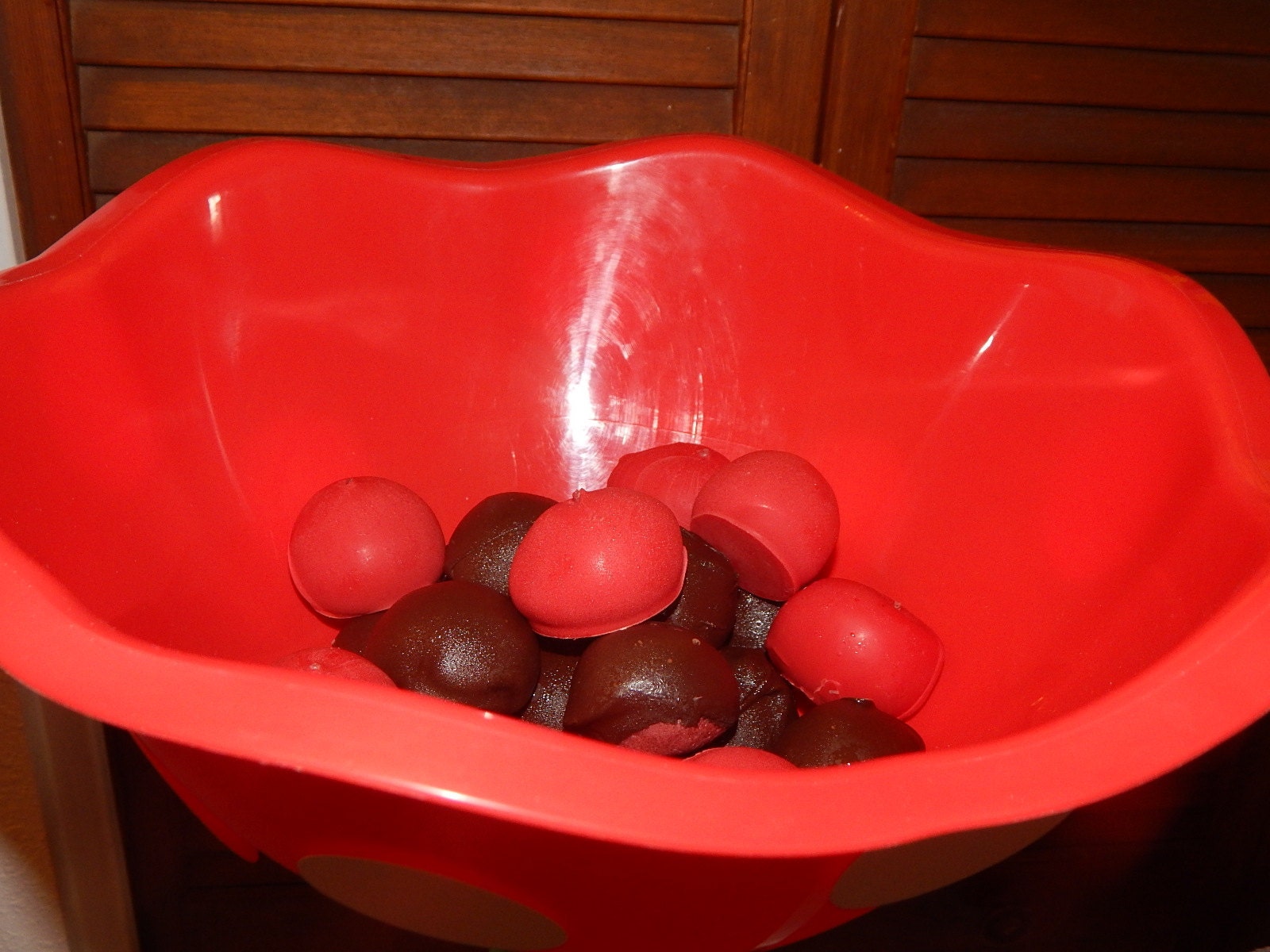 I was brave and added cake balls to the decoration.  Proceed at your own risk.  :) 
Level Up - It's a Girl Banner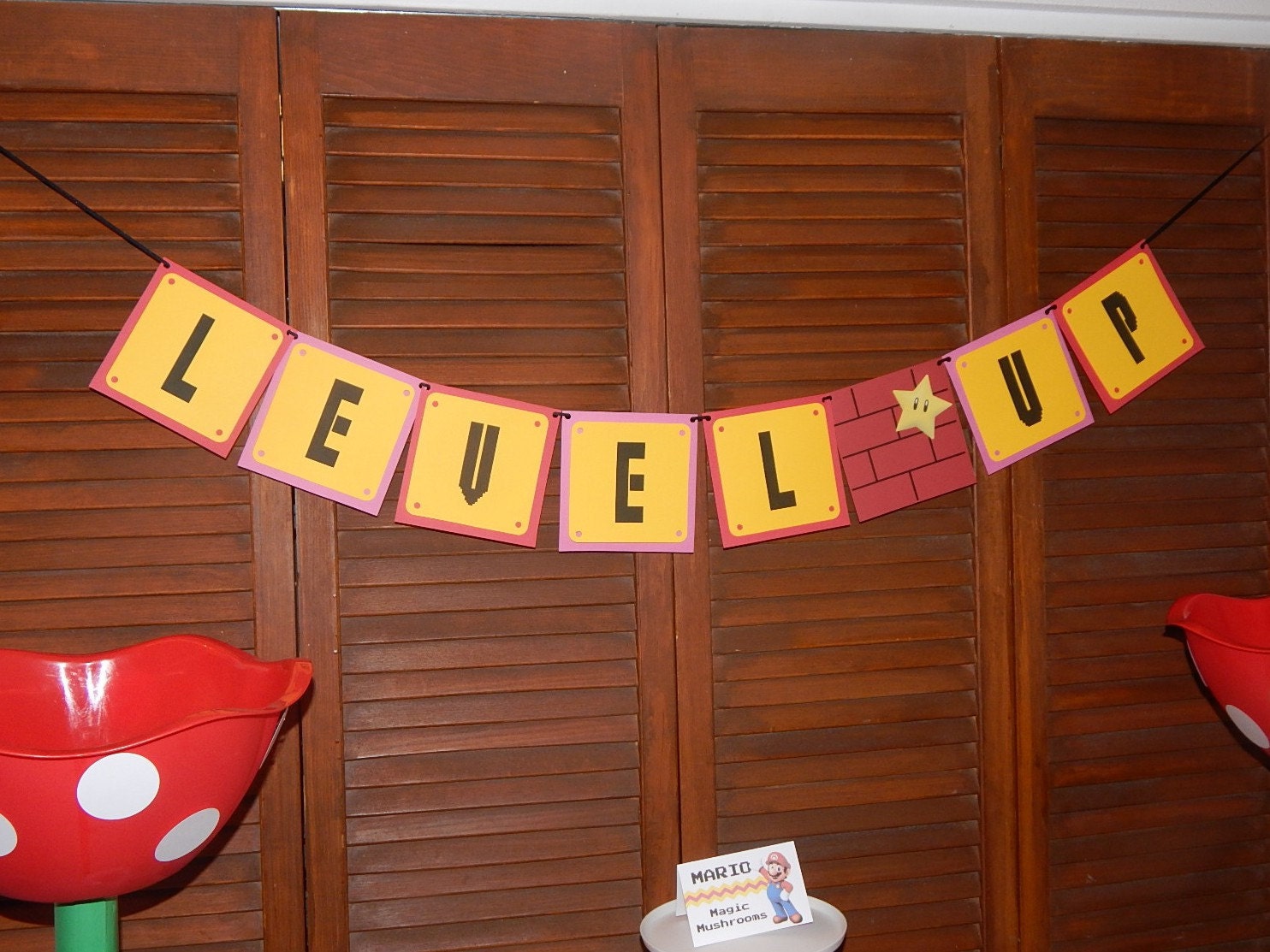 Two layers of card stock added some dimension to the banner.  Not having enough of either red or pink for all the letters added some color variety!
Space Invaders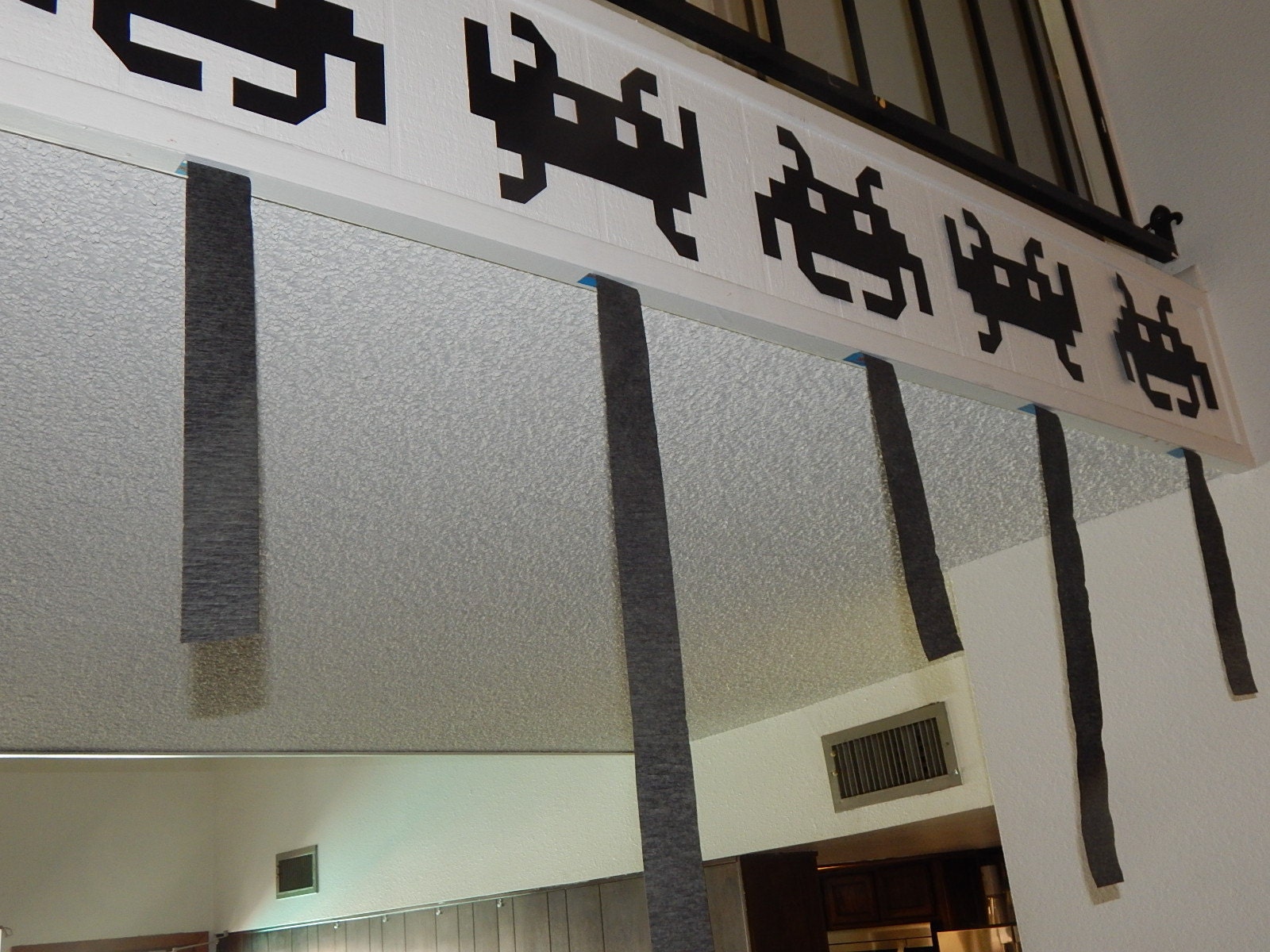 I found graphics online, created a template, and used black card stock.  Hanging below the Space Invaders, I found another use for my leftover streamers!  
Player 3 Has Joined the Game Onesie Clothesline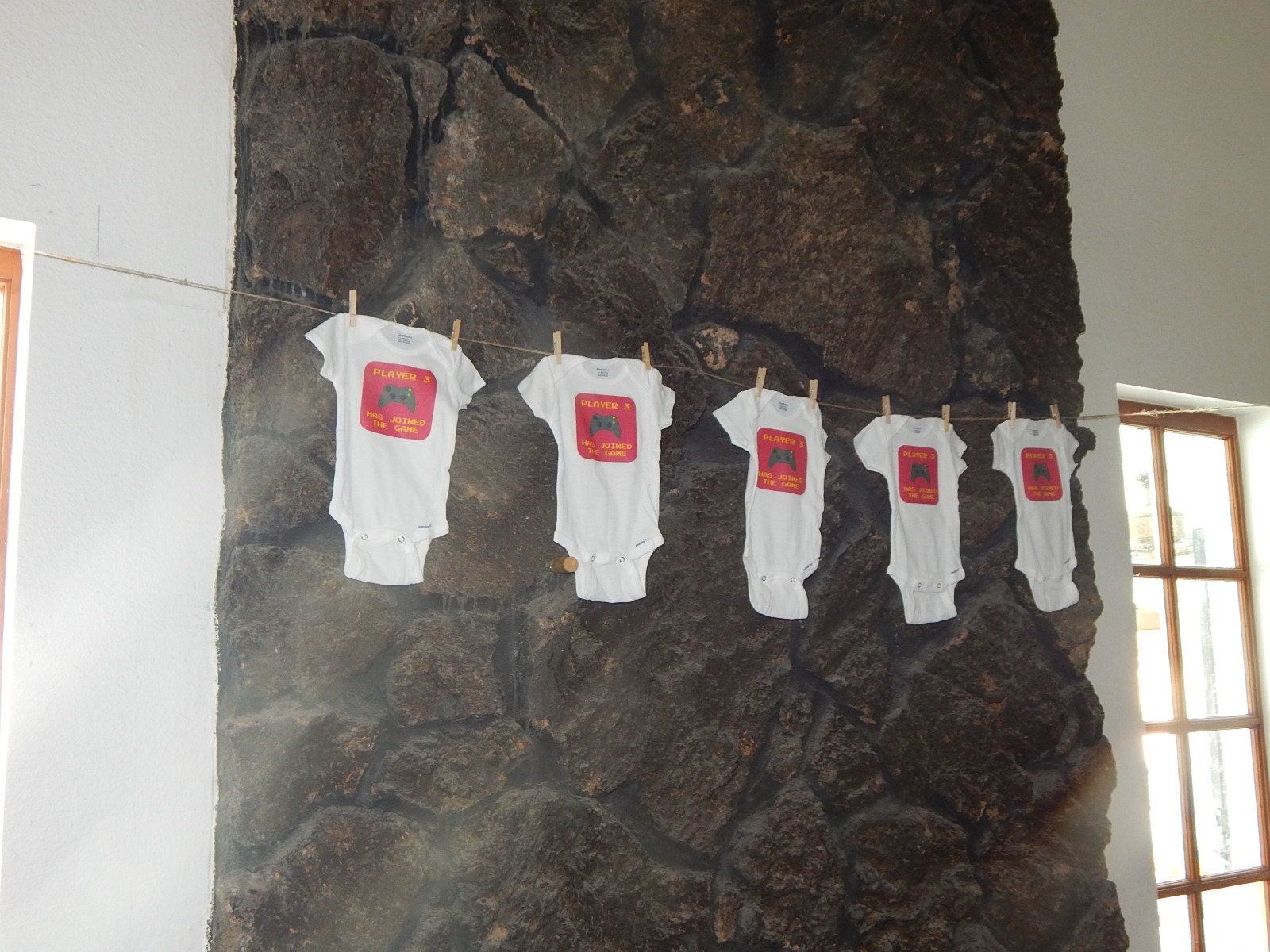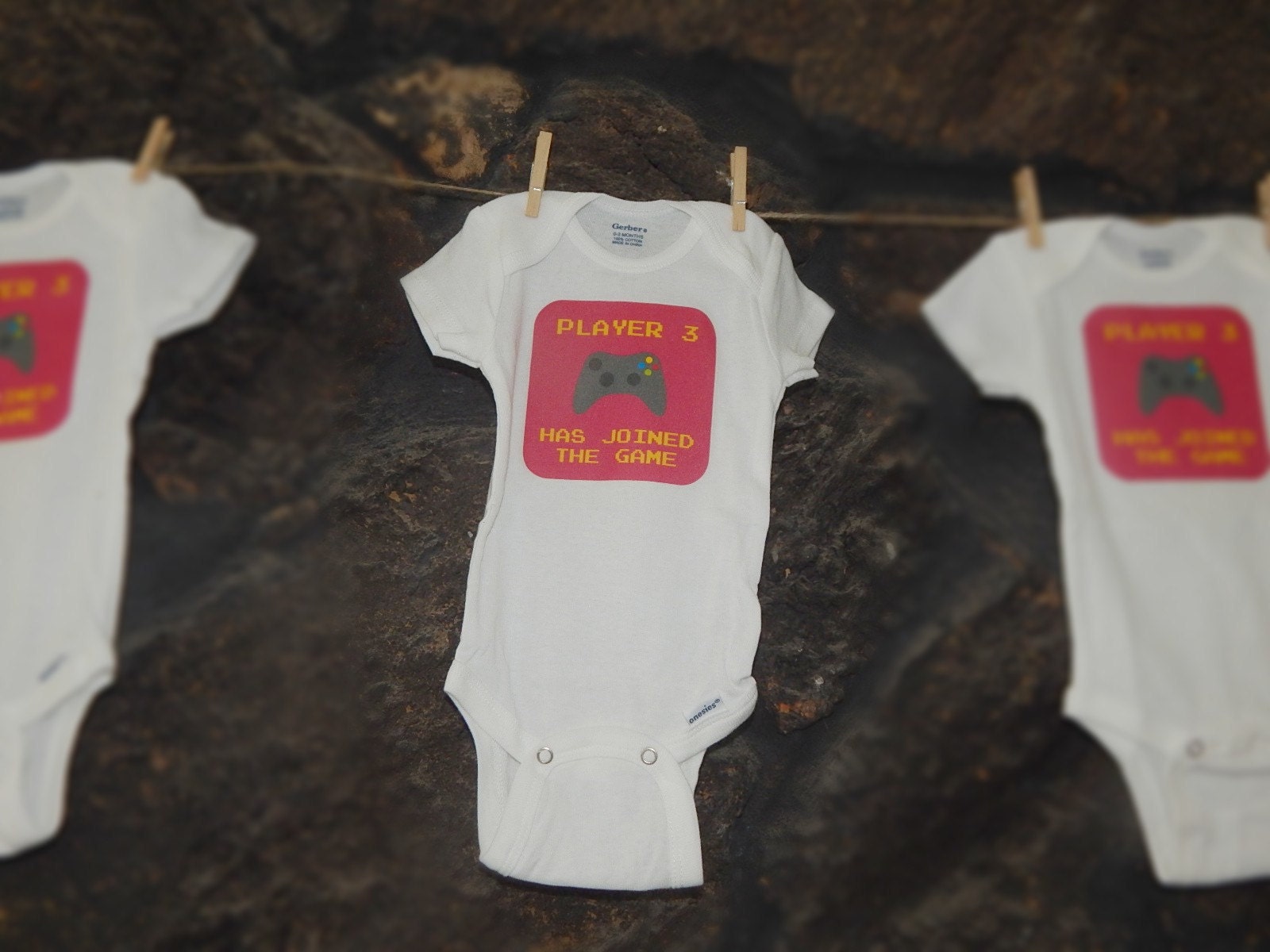 This touch was my favorite of the decorations.  I saw similar onesies available for sale, but they were way too cost prohibitive to have a clothesline full of them.  So I went on Amazon and bought a pack of Gerber Onesies (5 for $10!) and Avery Iron-On labels, designed a graphic, and made my first Iron-Ons!  While I enjoy making all the details just right for parties, I'm my mother at heart and hate waste, so I love decorations that have function.  This whole clothesline went home with the guests of honor after the party, and I got to see pictures of my precious God Daughter as Player 3 just a few short months later.  For me, it doesn't get any better than that!