Before having children, I hated parties and all things party-planning.  I don't know why exactly, but I know my anxiety level automatically increased several notches every time I even thought about our first born's 1st birthday party.  
How my world has changed....  Now I love doing my kids' birthdays, and I'm often recruited to help with others'.  This will be my first time writing about it though, so we'll see how that goes!  😊
So my first step in party planning is picking a theme.  I have my work cut out for me because we do a joint party for our kids each year since their birthdays are only two weeks apart.  Not only do we have two kids two different ages with two different personalities, we've got two different genders to deal with, too.  So I try to pick something as neutral as possible that I can still make awesome for them.  The year of six and eight was the beach - primarily because this was our first birthday party with a pool in the backyard so it seemed fitting for the water to be the focal point.
My next step is to move on to invitations....  By this point, I knew I wanted the colors to be bright and bold.  
Beach party invitations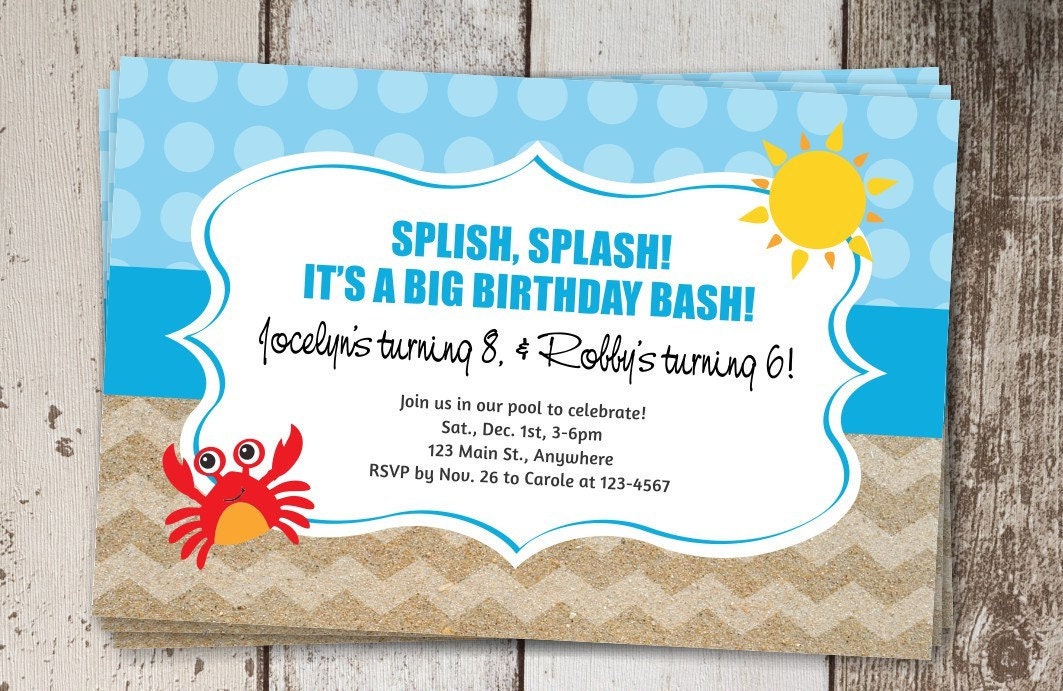 My next step is decorations....
Beach themed umbrella toothpic wreath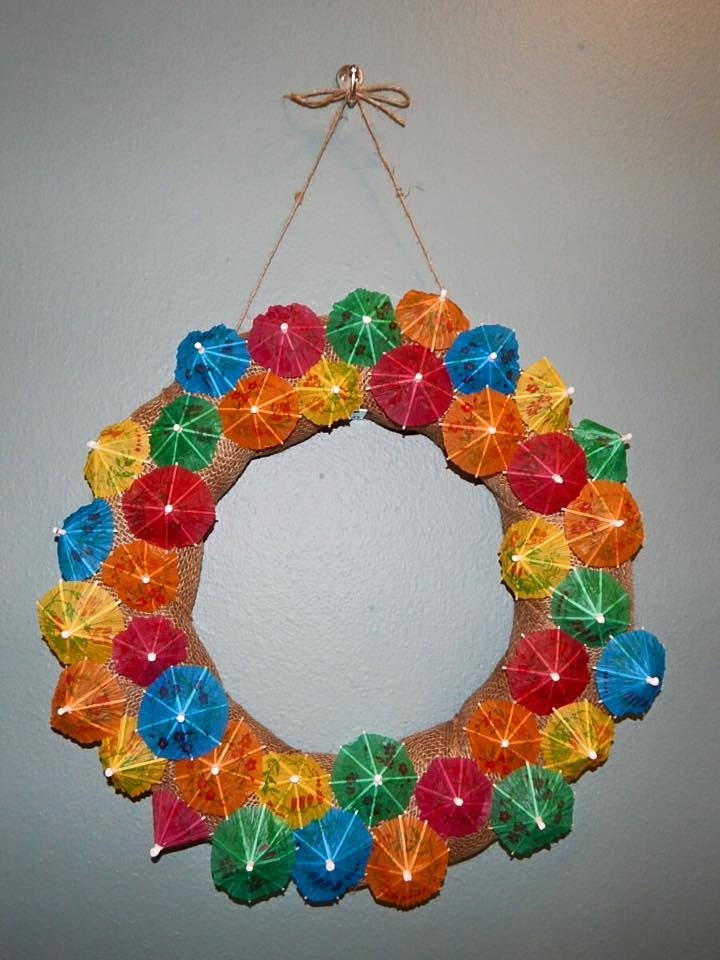 This was a pinterest idea that I thought was going to be difficult.  Turned out I got the $4 umbrella toothpics while grocery shopping at my neighborhood walmart, and the process took less than an hour.  I do have a wreath that's all ready to go to dress up for each season and birthday.  The base is foam that's wrapped in burlap, which I find to be the perfect base for most decor.  From there, I just stuck in the toothpics.
Beach ball garland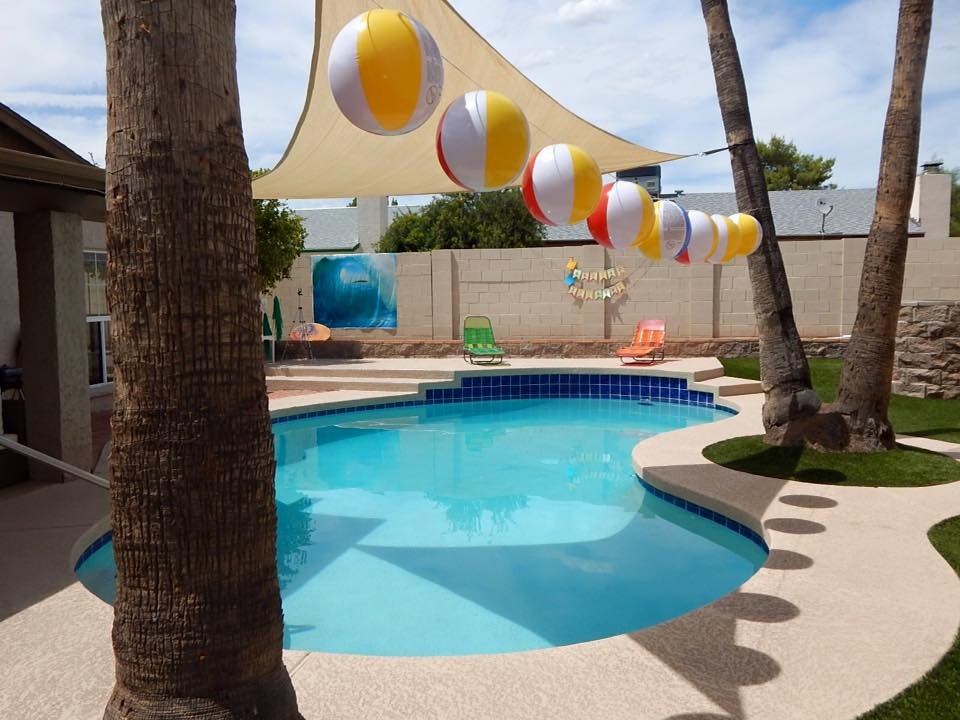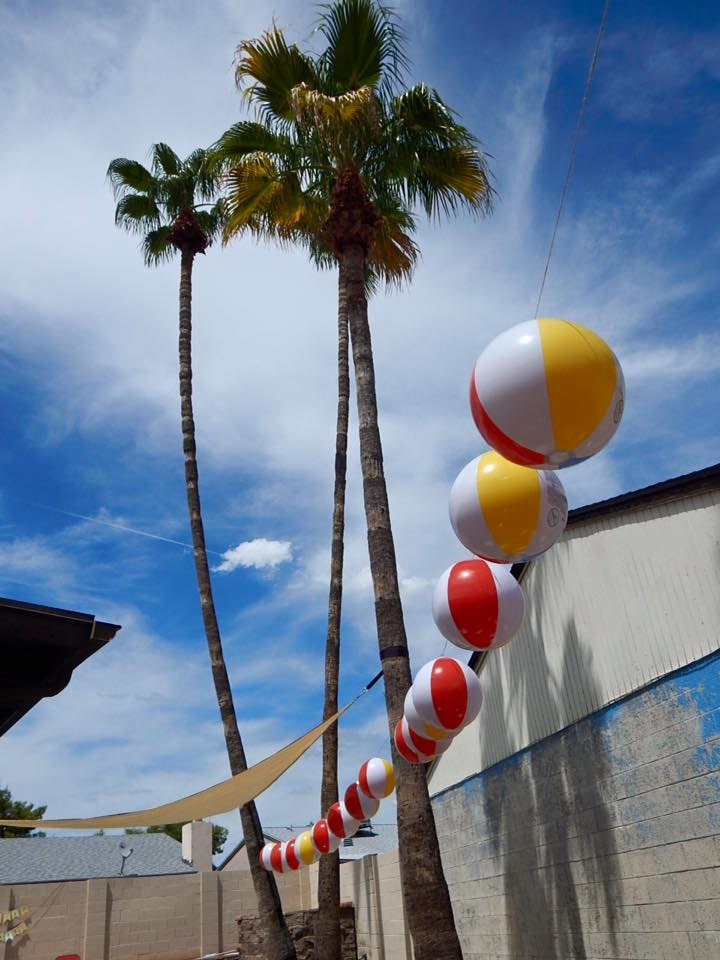 I LOVE decorations that double as favors.  It saves money, time, and clean up!  I got the beach balls for a $1 a piece at Target and then attached them to jute twine (which I adore and use for everything!) by the rubber mouthpiece/valve.  Very easy!  Then as each child left, a ball came down and left the party, too.
Beach banner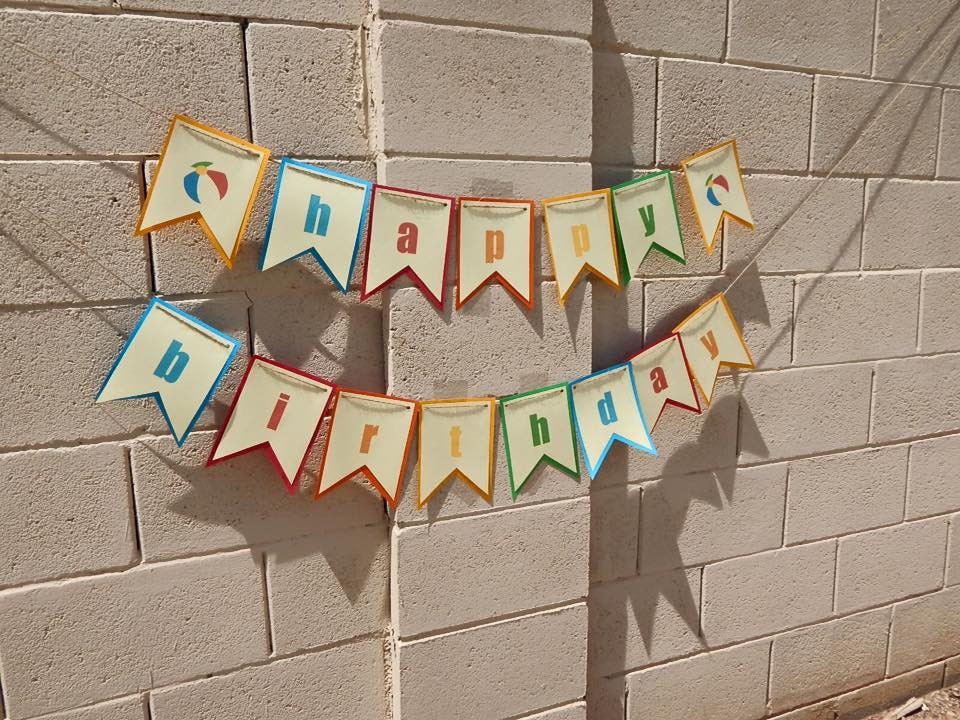 Centerpieces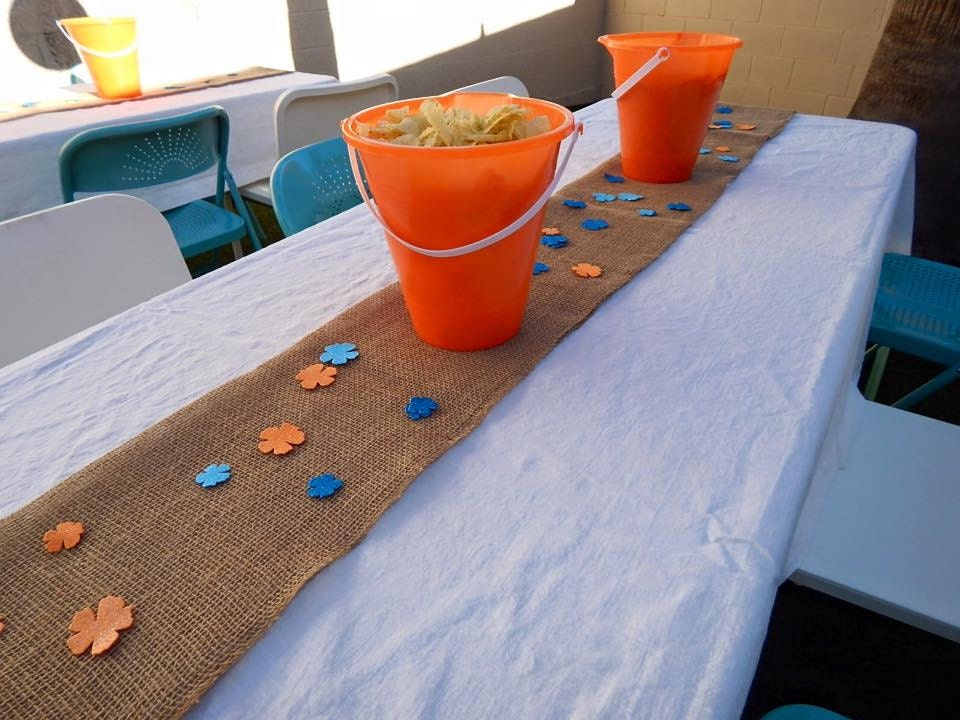 Burlap on a white tablecloth (which is another base I use most times we break out the party tables) with beach flower confetti and buckets from Dollar Tree.  Similar to the beach garland decoration doubling as party favors, I also love a decoration that has food storage double duty!
Gummy worm kebabs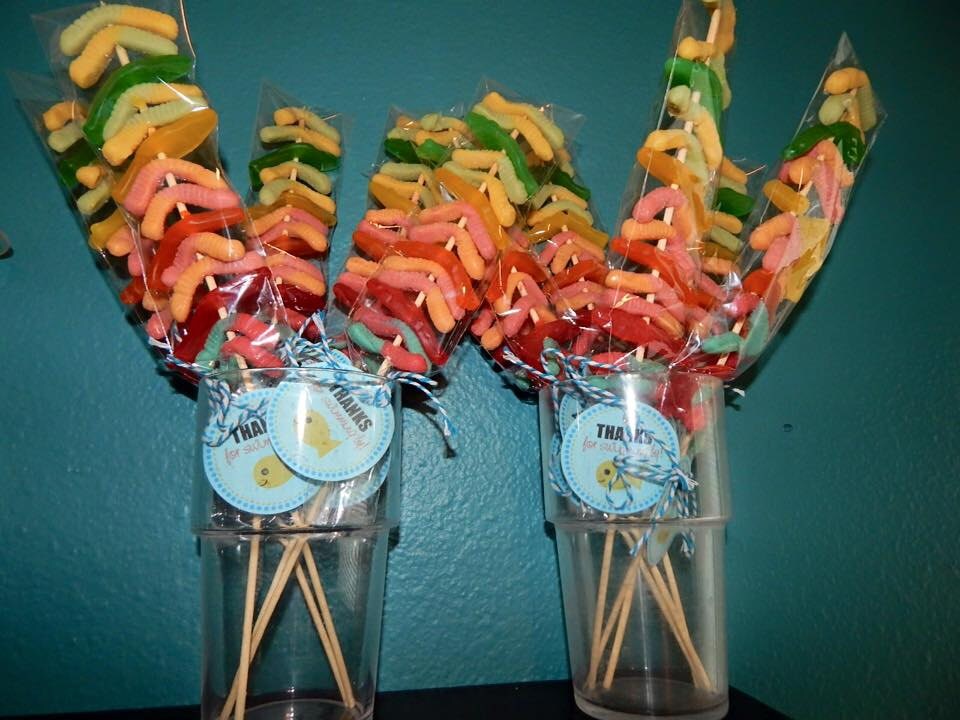 I'm not going to lie...these were a huge pain for me!  The skewers were too thick for the gummy worms and once set upright, gravity quickly went to work.  No fond memories of these guys.
Inflatable tube wreath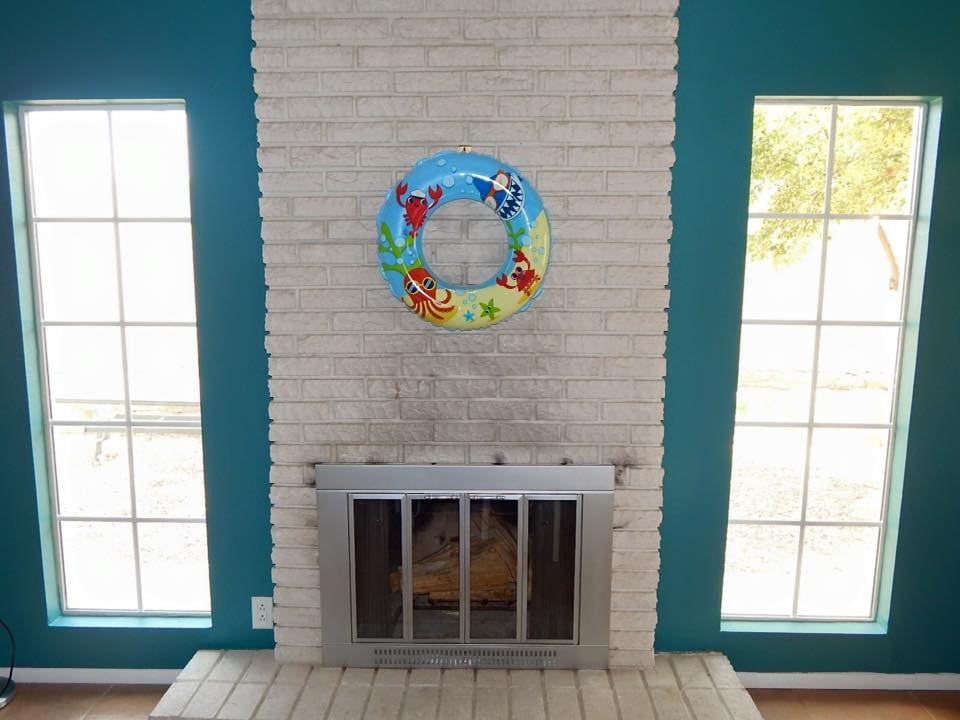 This, on the other hand, is my kinda set-up.  $1 price tag (from a neighborhood walmart) that I just attached to our existing wreath hook on the fireplace with fishing wire.  I put another one on the front door.
The dessert table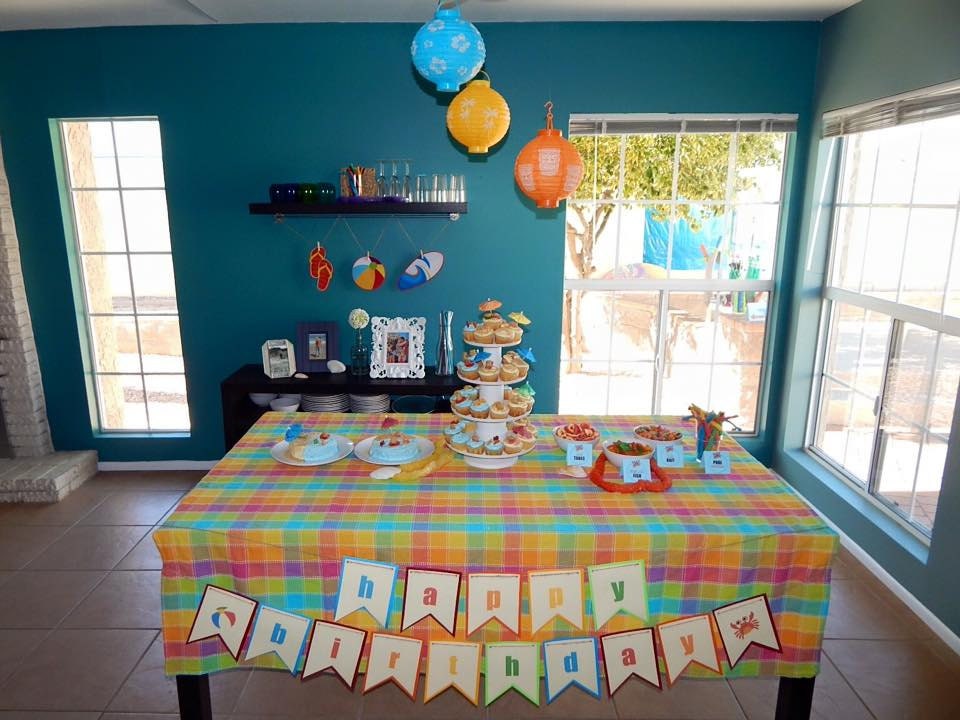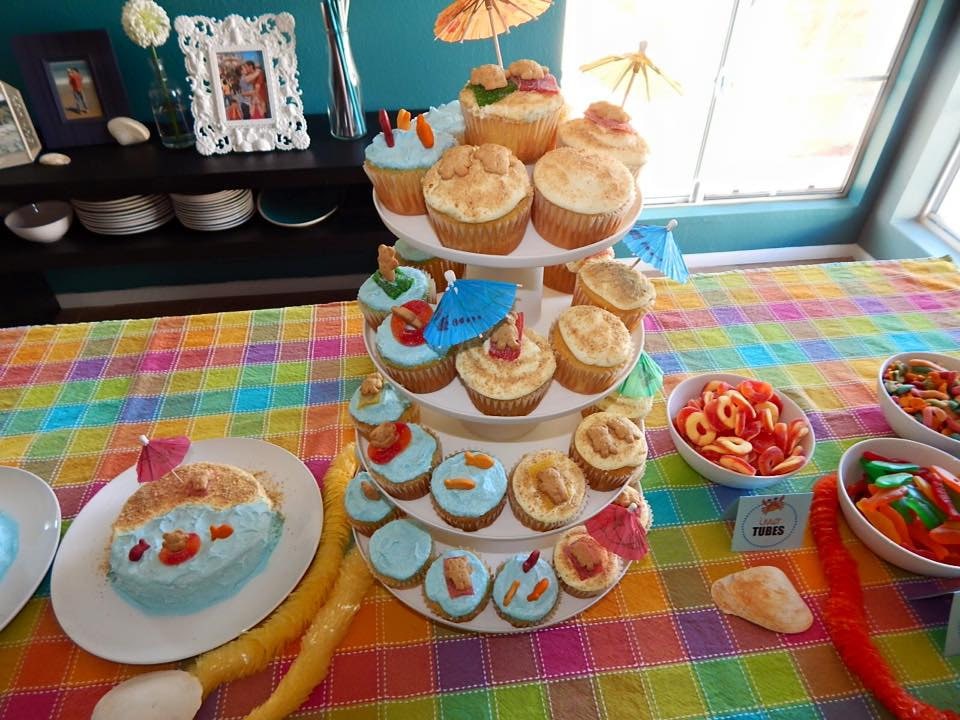 The cute beach themed lanterns hanging from our ceiling fan were also from the Dollar Tree.  We had "inner tubles," "live bait," "tropical fish," and "pool noodles" in the bowls, and the cakes and cupcakes were easy enough that my little ones could actually help decorate!
Beach themed photo booth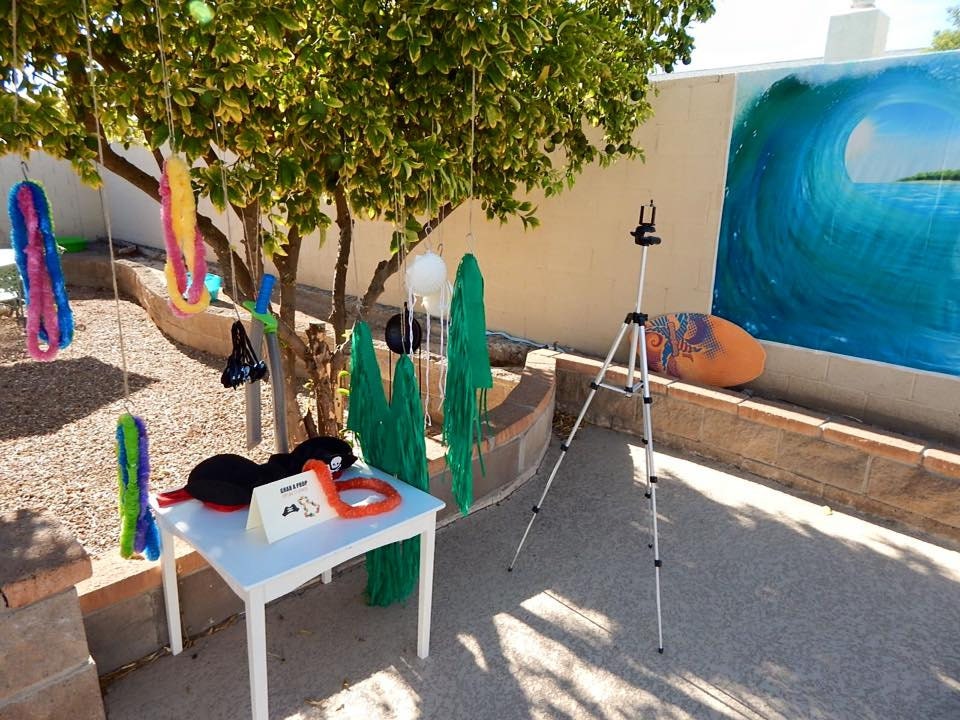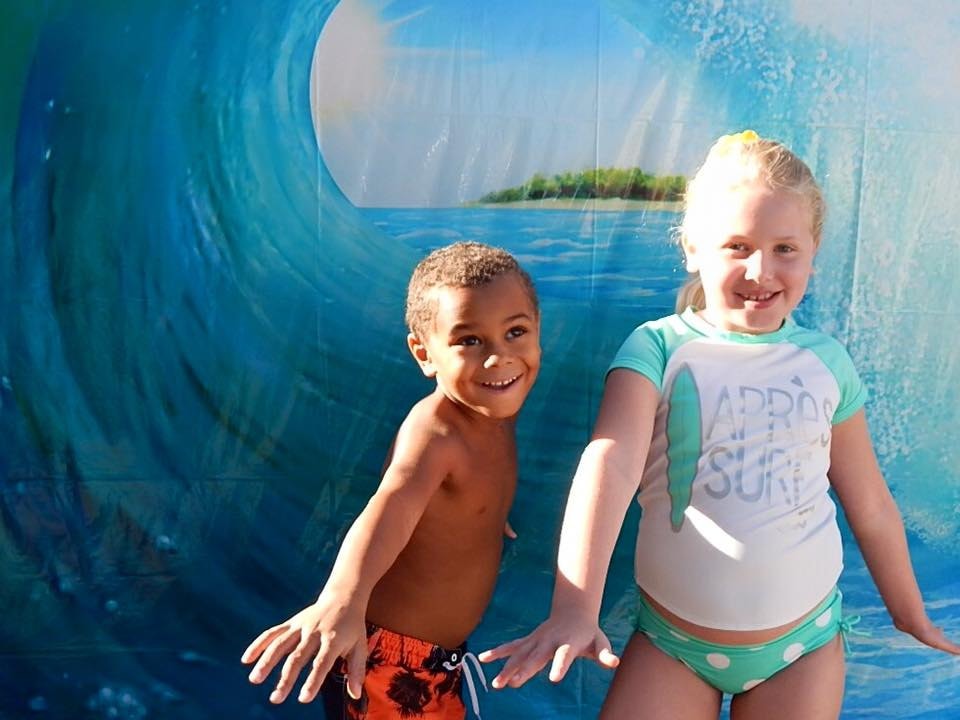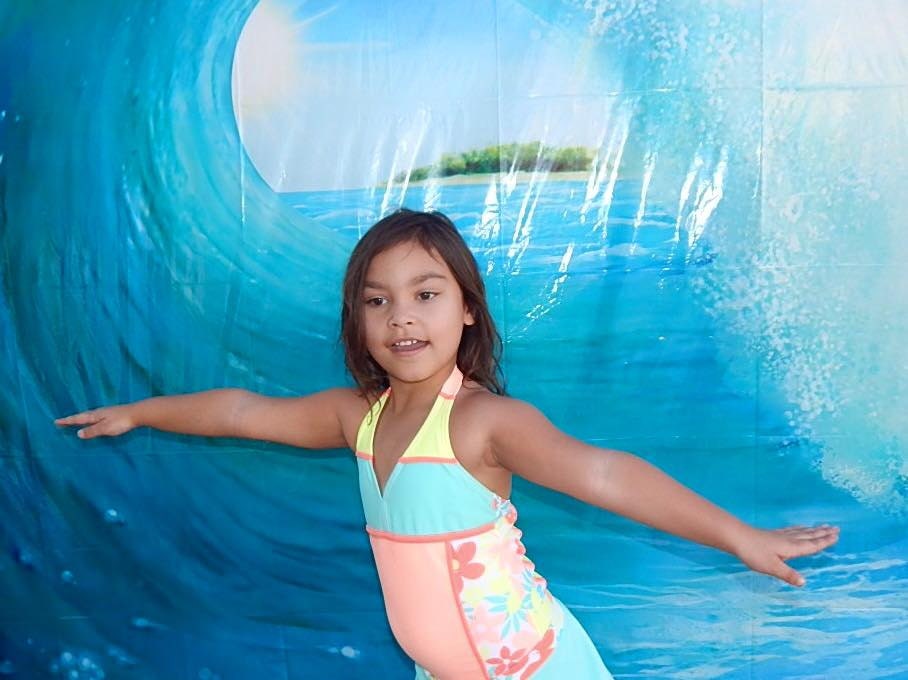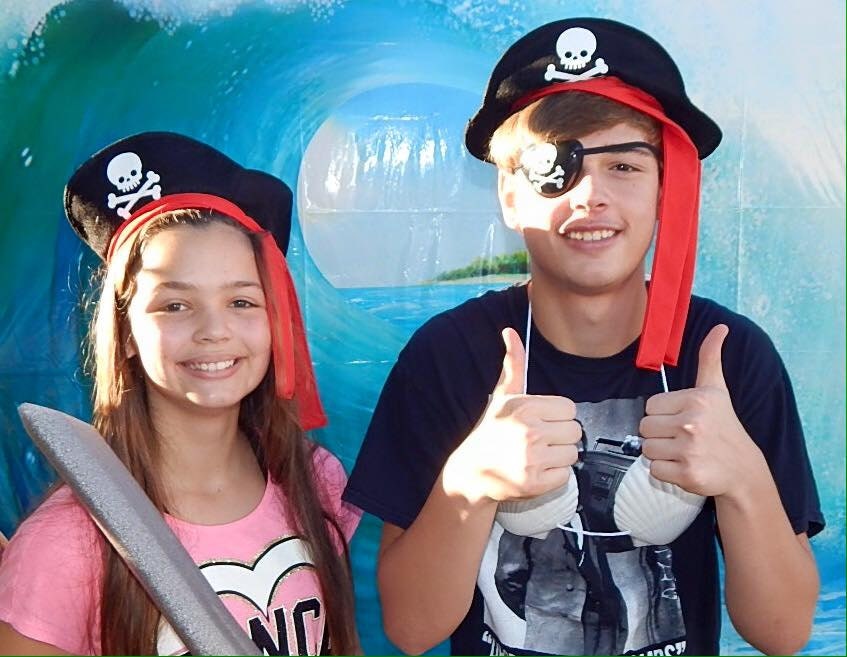 Our new whale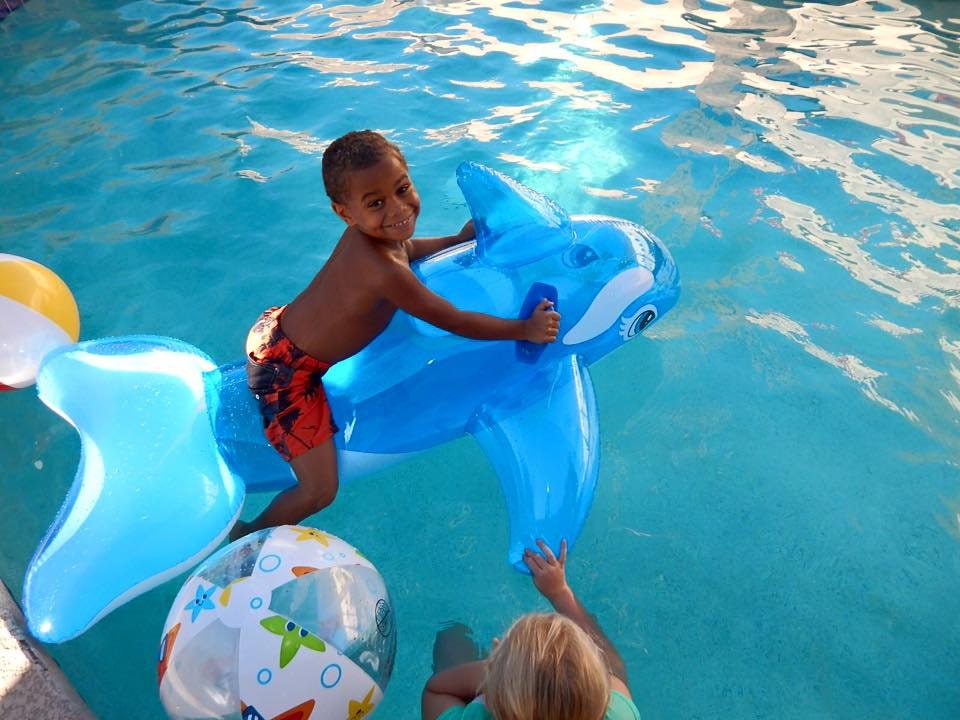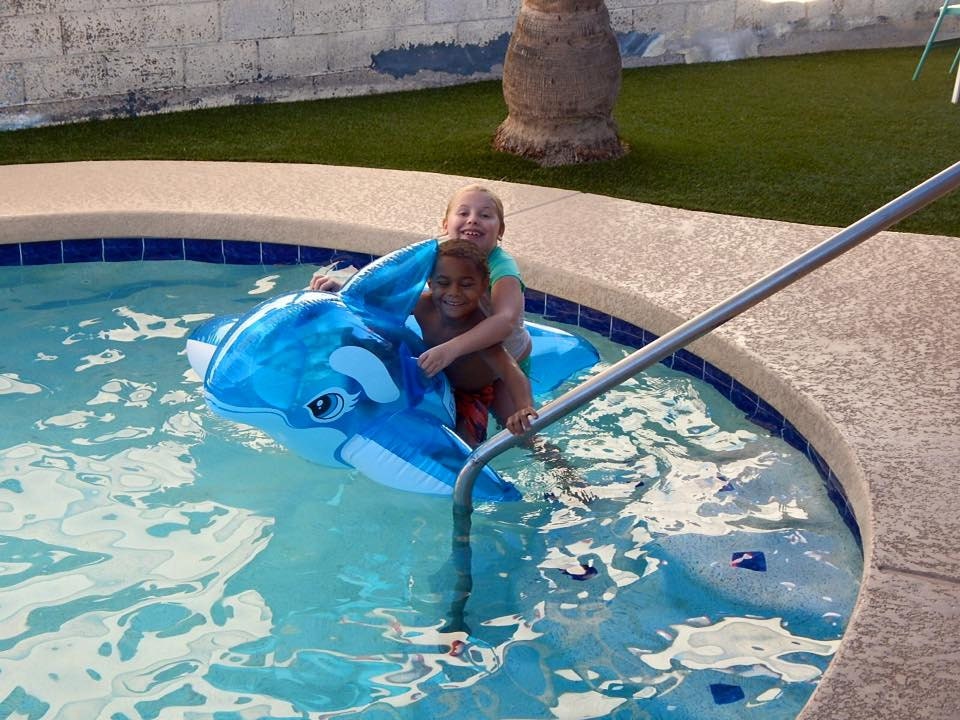 Some more double duty going on here . . . themed entertainment!
Bubble bar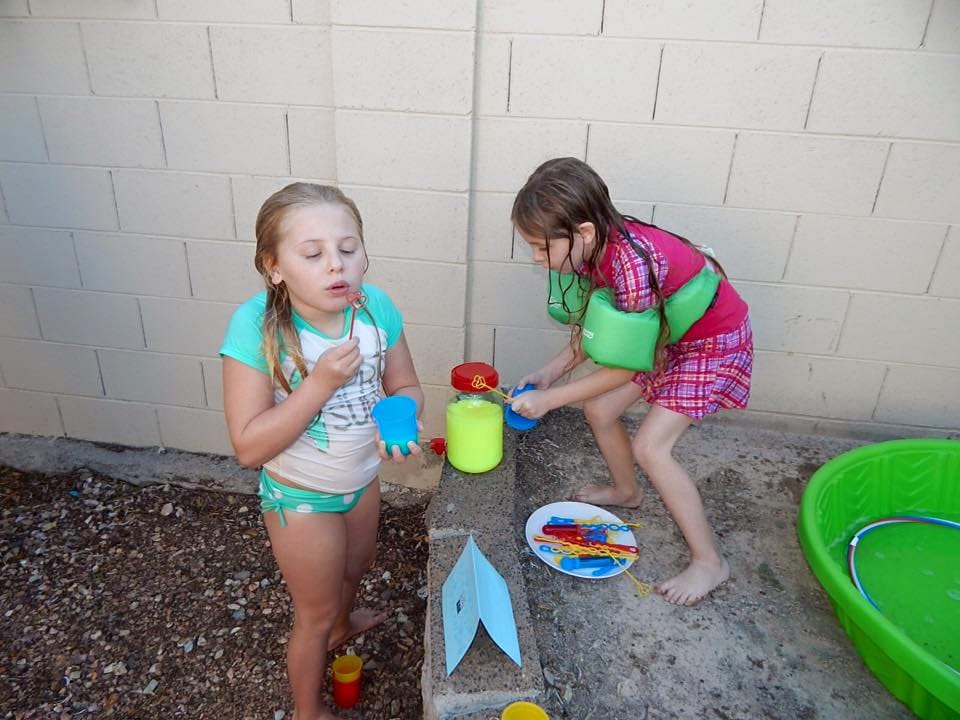 This I gotta say is something else we could have done without.  The kids largely neglected this section of the yard - just too many better things going on.  Plus, my pinterest project (the live-size bubble maker in the kiddy pool) was a giant fail.  The hula hoop would maintain the bubble for about a foot.  Oh well!  All in all, the party was a lot of fun...and minimal stress!